The Shoah's Influence on my Family
---
Rabbi Mintz and Cantor Spierer announced for Friday, 17 April 2009: "Three of our congregants, Doris Goldstein, Steve Heller and Ron Honig, will share some of their personal experiences and insights regarding the impact of the Shoah on their familiesí attitudes toward Jewish life and practice."
Here are the notes for Steve's remarks. Click on any photo to enlarge it.
---
Shabbat Shalom & Shalom Aleichem.
The Shoah influenced but did not define either my parents or my family.
My mom called her father Apukam, Hungarian for daddy. Other relatives called him Fritzi-bacsi, Uncle Fred. I knew him as Grandpa. Early in the twentieth century, when Jews weren't admitted to University in Hungary, Grandpa and his wife moved to Belgium so that he could become an engineer. In 1940, when it became clear to Grandpa that it was time to get out of Europe, he went home and announced that they were leaving in one hour, and they did. He had tried to convince other relatives to leave as well, but many didn't want to leave their "things" behind. And, ... how bad could it get? This taught my mom about the importance of things, or their lack of importance. I share that value. I drive an old car & ride an old bike, and I don't own an iPod.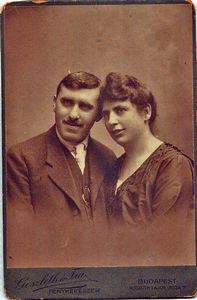 I never met my dad's father Kalman; he owned a printing business. He taught my dad who taught his children as I hope to teach my children that the only thing that cannot be taken away from you is your education. Indeed, as my dad was placed into a slave labor brigade in Budapest, and later into labor & concentration camps, my dad had all he owned taken from him. His sister Kato and his brother Steve were martyred; my sister Karen and I are named after them. My dad has a similar body-type to me. He emerged from the war at about eighty pounds, with his wits, and with a great deal of determination.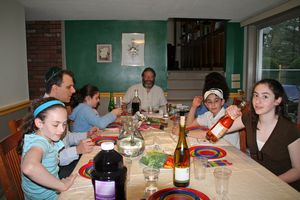 Growing up, we didn't talk about the Holocaust much ... except on Passover. My dad would lead the Seder calling, "Ho Lachmo Anyo! Behold the bread of affliction our forefathers were made to eat in the land of Egypt!" He would continue that our tradition tells us to personalize the story of the Exodus as if we ourselves were freed from slavery. Every year my dad retells the story of how in 1945, on the first day of Passover, he began a brutal forced march to Mauthausen. Some collapsed, and those that survived were on their way to eventual freedom. As we grew up, Passover Seder was the vehicle for Holocaust story telling --- for my dad and also my Uncle Julius --- whom I remember every year singing in a deep voice: "Tell old Pharaoh: Let my people go!" How many of you have sung this very song at a Seder? How many of you have thought about it in the context of the Holocaust?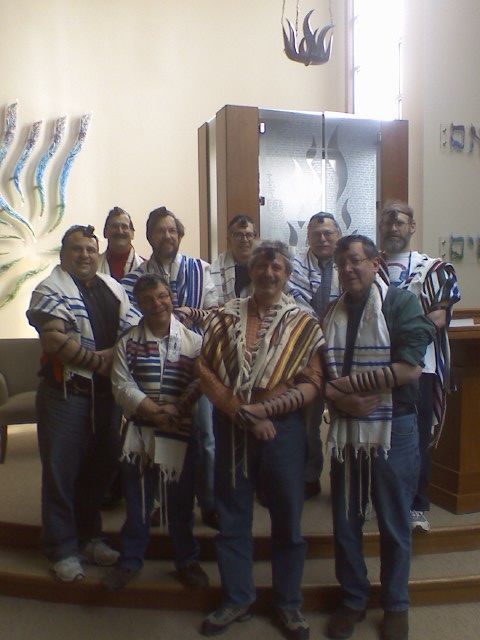 The Shoah didn't seem to shake my parents' belief system. I, on the other hand, consider myself an atheist, an atheist who loves Jewish culture and tradition. Do I reject the supernatural because of the Holocaust? I don't think so. I come to my position due to a profound belief and trust in logic and science. As the cognitive dissonance of my choice remains a struggle, I share my parents' connection to the community.
I find it interesting to consider the few "things" --- the family heirlooms --- that survived to this day. My dad's parent's shabbos candlesticks are lit most Friday nights by my parents. And, my dad recently gave me the yad tefillin belonging to my namesake, Pista bacsi, Uncle Steve. I connect with Pista bacsi when I wrap my arm with that yad tefillin on an occasional Sunday morning right here in this sanctuary as I honor the uncle I never met.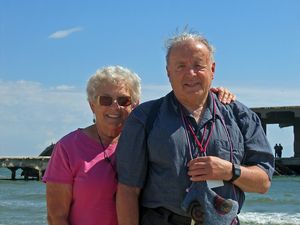 My parents didn't teach us Hungarian (or French or Spanish or German ...) as we grew up, as they were more interested in moving forward than looking back. So many survivors were defined by their horrible experiences: they were enslaved and never emerged truly free. My parents wanted to have lives filled with new and positive experiences. About thirty years ago, my mom was the first woman to become president of Temple Beth El, our synagogue in Poughkeepsie, NY.
My parents are part of a shrinking generation of Holocaust survivors. They have been interviewed, and some videos have been made. They speak about their experience and recently went on a trip to Poland and Israel to personalize the Shoah to youth in their community. Being Holocaust survivors has influenced but has not defined them. In the same way, their Holocaust experience has influenced, but has not defined our Jewish life and practice.

Shabbat Shalom!
---
Heller Web Space: Images - Notes - Travel - Memories