---
Sari neni (Charlotte) - 24 December 1900 - 10 February 1985 & Manci neni (Margaret): 19 November 1906 - 10 Sept 1989
Photo: Manci neni, Sari neni, and Grandma, taken when Sari neni returned to visit Hungary after WWII in the late 1940s.
Sari neni and Manci neni were Grandma's sisters in NYC. Sari neni had no kids of her own, and David and the Heller kids were her grandchildren. When he first came to the states, Nagypapa lived with her and her husband George. Much later, we all visited Sari neni and Manci neni regularly as kids. Manci neni was the quieter sister, a very proud grandmother.
Manci neni, when asked how she was doing, would respond first "Thank you," and after that she'd say how she was. So, rather than, "Fine, thank you," she's say, "Thank you, fine." Perhaps this is a typical Hungarian linguistic pattern, or perhaps this practice derives from elsewhere, but I found the order of her response to be enlightened. Thank YOU before I tell you about ME. I have tried to adopt this practice, and I often think of Manci neni as a result. [Steve]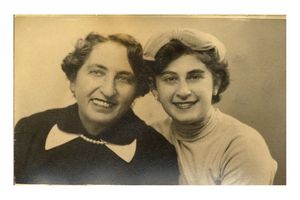 During WW II, Vera and I were housed in an orphanage in Budapest, Hungary. Nazis emptied the orphanage, and marched the kids toward the Danube to be shot. Were were so tired we could hardly walk. As we passed the ghetto, there was an indoor market, and we all stopped at an office building for the kids to rest. My mother (Manci neni) heard there were kids in the ghetto, and she found Vera and me. My mother was able to take us home, saving our lives. I remember that she fed us soup made of burned flour; I still remember the smell of the soup. I'll have to try making some of that soup. [Judy neni]
When Manci neni got married, her mother, Rosa, moved in with them. She stayed with them all the way, including the time they moved to the Ghetto in Budapest in 1944. I am told one evening she went out to look for Manci and never returned. [Nagypapa]

Sari neni sent this postcard of herself.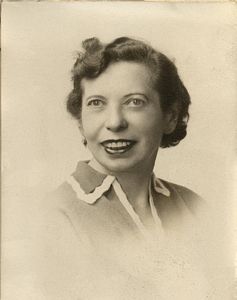 Sari neni used to smoke cigarettes. One day she left a cigarette behind after a visit, and mom found it. She called Neil and me into the kitchen and said that we were going to smoke it. It was terrible! I never smoked again. [Leslie]
When I was little, Sari neni used to hold me up to the picture window in our living room in Poughkeepsie. We'd look into the back yard at the apple tree and she would sing to me, "Don't sit under the apple tree, with anyone else but me ... ." Sari neni also sang me a Hungarian children's rhyme, Jön a kapitány. [Leslie]