---
MIT Camp 5: July 1989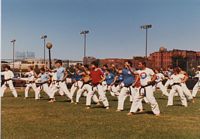 Bob Dvorkin leads basics.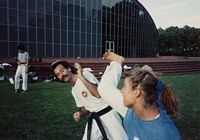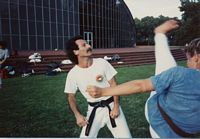 Beth Kulas kicks Ted Hillson one way ... and another.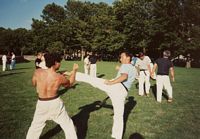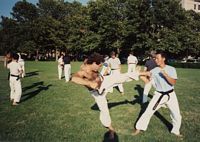 Mike Nussbaum exchanges side kicks with Ki Sung Mun.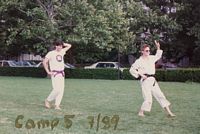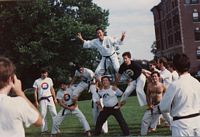 We always had a bit of fun along with the hard work. Robert Klein and Chris Dennis are on parade. We formed a standing pyramid; Ki Sung Mun is on top of the world supported directly by Lim and Chris Young. Scott Zimmerman is at the root of all evil.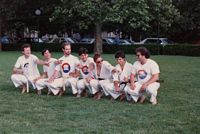 Playing "I see a bear" are: ?(Pok), ?, Mike Strange, Robert Klein, Chris Dennis, Mark Weiner, and Steve Heller.

Saturday night BBQ Party
Bob Dvorkin, Scott Zimmerman, and Jon Litt
Dave Schulman, Ted Hillson, and Pete Michaelson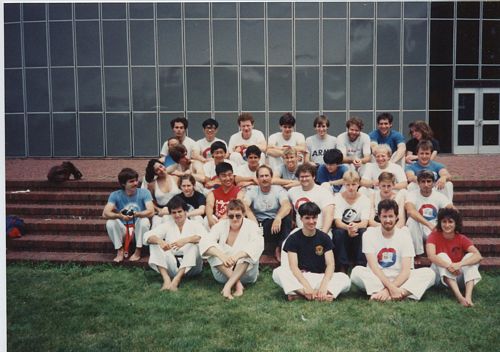 Back row: Mike Nussbaum, Jill Damashek (hiding), Poh Lim, ?(NJ), Robert Klein, Jon Litt, Ian Taylor Dave Schulman, Josie McAuliffe
Third Row: Mike Conboy, Stan Oda, Dave Mayes, Beth Kulas, Crestena Calkins, Gene Cohen, Scott Zimmerman.
Second Row: ?(Pok), ?(Harvard), ?, Eugene Ohr, Bob Dvorkin, Steve Heller, EJ Edwards, Andy Dvorkin, Mark Miller
Front Row: Mark Weiner, Chris Dennis, Peter Everett, Rick Renwick, Liz Miller

---
Bob Dvorkin and Ted Hillson held fall camp begining in 1988 at Bear Mountain.
September 1989: Fall Camp 2