---
Tri-County TKD
The first derivative organization of the WTKDA of which I am aware, established by Tony Rosario and others in the greater Poughkeepsie area. I witnessed their first black belt test in early 1975, where Ron Saks (brother of my school classmate Iris) was promoted to first degree. I recall a board breaking requirement of a combination break that had to be completed within a set time. I also remember hearing about a student I never met whose name was Kelso.

---

USA Tae Kwon Do Masters Association
A derivative organization of the WTKDA, established in 2010 by Jack Emmel (Southeast Region Director), Jim Cahill (Northeast Region Director), Ralph Rubino (Midwestern Region Director), and Ron Geoffrion (Western Region Director).

---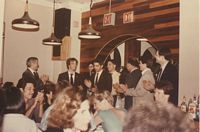 World Martial Arts Association
A derivative of the WTKDA established by Michael Dealy.
Headmaster: Michael Dealy
25 May 1895: Dinner after a WTKDA black belt test. The folks from Brooklyn are serenading the celebrants.


---

World Tae Kwon Do Association